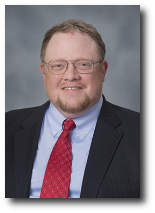 Greg Henrikson has been practicing law in Alaska since graduating from the University of Oregon School of Law in 1998. Greg served as managing editor of the Oregon Law Review and won the Fredric R. Merrill Award for his comment, Perfecting Oregon's Land Sale Contract: Beyond Notice and Cure, 76 Or. L. Rev. 945 (1997). His article, Dimond, Not Daubert: Reviving the Discretionary Standard of Expert Admission in Alaska, appeared in the Alaska Law Review in 2008.
Greg has worked primarily in the area of insurance defense with a concentration on motion practice and appellate work. He has drafted and argued many hundreds of motions on all aspects of civil litigation from complex pre-trial discovery disputes to post-trial matters. He has experience in the interpretation of insurance policies and in defending against civil claims. His appellate record includes:
Dearlove v. Campbell, decision pending (Rule 68 interpretation and enforcement of offers of judgment);
Valley Mechanical v. Allianz, S14028 (Rule 41 dismissal issues, interlocutory appeal);
Schofield v. City of St. Paul, 238 P.3d 603 (Alaska 2010) (wrongful discharge and due process claims from peace officer);
Rhodes v. Erion, 189 P.3d 1051 (Alaska 2008) (Rule 68 post-judgment enforcement);
Murray v. Ledbetter, 144 P.3d 492 (Alaska 2006) (enforcement of commercial debt on confession of judgment);
Therchik v. Grant Aviation, Inc., 74 P.3d 191 (Alaska 2003) (mandatory insurance coverage issues arising from aviation policy) ;
Krossa v. All Alaska Seafoods, Inc., 37 P.3d 411 (Alaska 2001) (interpretation of crabbing crew share contracts in joint venture) ;
Robles v. Shoreside Petroleum, Inc., 29 P.3d 833 (Alaska 2001) (scope of duty questions arising from explosion of propane tank) ;
Parks Hiway Enterprises, LLC v. CEM Leasing, Inc., 995 P.2d 657 (2000) (liability issues in underground storage tank litigation).
Greg joined the firm of Walker & Eakes in 2007. He became a partner in the firm in 2018.